Biography - Robert Carlyle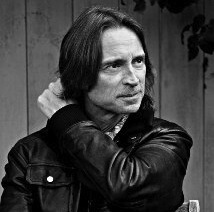 Actor Robert Carlyle is a slight man with delicate features, but his outsize presence has led to his frequently being cast as outsiders, villains, society's marginalia. His expressive face and blazing eyes hint at a vivid inner life and, while a pattern close to typecasting has emerged at times, he has displayed an exceptional capacity for endowing hard men with a very wide range of fine emotional shadings.
Born in Glasgow on 14 April 1961, he was brought up by his father, Joseph, after his mother disappeared when Robert was four. They lived in run-down flats, communes and squats, sometimes sleeping rough, while Joseph, a painter and decorator, travelled in search of work. Robert left school at 16 and worked with his father for five years, then got involved in drama after reading Arthur Miller's The Crucible, subsequently graduating from the Royal Scottish Academy of Music and Drama.
His first significant part was as an ex-con labourer in Riff-Riff (1991), whose director, Ken Loach, was looking for actors with experience of the building trade, and he made a mark as a psychopathic Liverpool football fan in Jimmy McGovern's Cracker story 'To Be a Somebody' (ITV, 1994), on which he met his future wife, Anastasia Shirley, a make-up artist (they married in 1997 and have three children). He played the title character's gay lover in McGovern's subsequent Priest (BBC, 1994), directed by Antonia Bird, but his career really took off in the mid-1990s.
Danny Boyle's Trainspotting (1996) gave him a defining role, as the terrifying - yet electrifying - Begbie, which he followed with a sharply contrasting one, as the laid-back, dope-smoking Highlands policeman Hamish Macbeth (BBC, 1995-97). His international profile increased sharply when he played an unemployed Sheffield steelworker who forms a male striptease act in the breakthrough comedy The Full Monty (d. Peter Cattaneo, 1997), for which he won a BAFTA (he was also BAFTA-nominated the same year for Hamish Macbeth).
Working again with Loach, he played an unemployed bus driver who becomes involved with the Nicaraguan Sandinistas in Carla's Song (1996), received another BAFTA nomination for his drug-dealer in Frank Deasy's Looking After Jo-Jo (BBC, 1998) and was an 18th century highwayman in Plunkett & Macleane (d. Jake Scott, 1999). He teamed up with Bird again for two features, the crime thriller Face (1997) and Ravenous (1999), a horror movie about cannibalism. He was the Bond villain in The World Is Not Enough (d. Michael Apted, 1999), a drunken father in Angela's Ashes (d. Alan Parker, 1999) and a wacky traveller in The Beach (d. Danny Boyle, 2000). His decade ended with an OBE in 1999.
After that, outstanding roles began to dry up. He played yet another petty criminal, this time caught in a mid-life crisis, in Shane Meadows' comedy-drama Once Upon A Time In The Midlands (2002), took the title role in the CBS mini-series Hitler: The Rise Of Evil (2003), and was Emmy-nominated for his greasy Russian sex-slave trader in Human Trafficking (US, Lifetime Network, 2005). 2007 brought two disaster movies, Flood (d. Tony Mitchell) and zombie sequel 28 Weeks Later (d. Juan Carlos Fresnadillo), after which two very small British dramas offered powerful roles. In I Know You Know (2008, d. Justin Kerrigan), he was the single father of a boy who fantasises that his dad is a secret agent, while in Summer (d. Kenny Glenaan, 2008), he played a man whose life has been blighted by his acute dyslexia.
Neither was a hit, though Carlyle felt them among his best performances. Discouraged by this, and by the failure of 4Way Pictures, the production company he set up in 1999 with Bird, Mark Cousins and Trainspotting author Irvine Welsh to raise finance for a film about grave-robbers, he signed up for a long-term role as the brilliant, tortured scientist Dr Rush in the Canadian sci-fi series SGU Stargate Universe (2009-10).
Biography by Sheila Johnston (http://www.screenonline.org.uk/people/id/503438/)
Beginning in October 2011 Carlyle portrays Mr. Gold (Rumplestiltskin) in the fantasy-drama series Once Upon A Time. The character is a wizard, deal-maker, and master manipulator. He's currently in his 4th season (2014-2015).
In June 2014 he shot The Legend of Barney Thomson, in which he plays Barney and he made his directorial debut on the project. Also featured in the film is big screen tough guy Ray Winstone. The film, based on The Long Midnight of Barney Thomson by author Douglas Lindsay, also stars Oscar-winning actress Emma Thompson, who will play Carlyle's antagonistic mother.
The film is in post production and should be released in 2015.